Product Summary
The PIC16F630-I/P is a 14-Pin, Flash-Based 8-Bit CMOS Microcontroller.
Parametrics
Absolute maximum ratings: (1)Ambient temperature under bias:-40℃ to +125℃; (2)Storage temperature:-65℃ to +150℃; (3)Voltage on VDD with respect to VSS:-0.3 to +6.5V; (4)Voltage on MCLR with respect to Vss:-0.3 to +13.5V; (5)Voltage on all other pins with respect to VSS:-0.3V to (VDD+0.3V); (6)Total power dissipation:800 mW; (7)Maximum current out of VSS pin:300 mA; (8)Maximum current into VDD pin:250 mA; (9)Maximum output current sunk by any I/O pin:25 mA; (10)Maximum output current sourced by any I/O pin:25 mA; (11)Maximum current sunk by PORTA and PORTC (combined):200 mA; (12)Maximum current sourced PORTA and PORTC (combined):200 mA.
Features
Features: (1)Power-Saving Sleep mode; (2)Wide Operating Voltage Range – 2.0V to 5.5V; (3)Industrial and Extended Temperature Range; (4)Low-Power Power-on Reset (POR); (5)Power-up Timer (PWRT) and Oscillator Start-up Timer (OST); (6)Brown-out Detect (BOD); (7)Watchdog Timer (WDT) with Independent ; (8)Oscillator for Reliable Operation; (9)Multiplexed MCLR/Input-pin; (10)Interrupt-on-Pin Change; (11)Individual Programmable Weak Pull-ups; (12)Programmable Code Protection.
Diagrams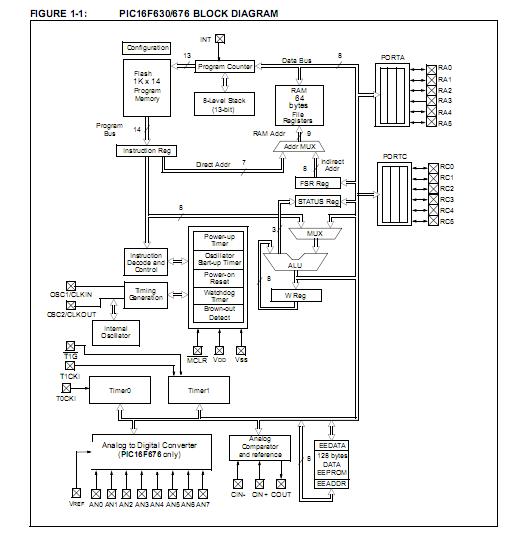 Image
Part No
Mfg
Description
Pricing
(USD)
Quantity

PIC16F630-I/P

Microchip Technology

8-bit Microcontrollers (MCU) 1.75KB 64 RAM 12 I/O Ind Temp PDIP14

Data Sheet



| | |
| --- | --- |
| 0-1: | $0.92 |
| 1-10: | $0.73 |
| 10-25: | $0.71 |
| 25-100: | $0.70 |


PIC16F630-I/PG

Microchip Technology

8-bit Microcontrollers (MCU) 1.75KB 64 RAM 12 I/O Lead Free Package

Data Sheet

Negotiable